Today is Friday Fiction! Join us by adding your name to Mr. Linky at the end of this post. Be sure to read and comment on the other great stories.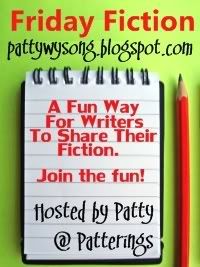 I posted my story especially for this election season. No matter who our next president is, it's good to be reminded that they have a family, and sometimes, their family pays a price. Let's remember to keep our next president, and his family, in our prayers.
National Daddy
"You little stinker…come out from behind that bookcase!"
"Gotta catch me, Daddy! Gotta catch me first!"
I grin and drop the envelope I'm attempting to open onto the cluttered desktop. My daughter's hair flies into her eyes as she peeks back and forth at me. When I stand up, she shrieks and makes a dash for the door to the bathroom just off the office.
I run to catch her up in my arms, and her laughter and giggles send my heart soaring like nothing else ever has. Her blond hair is soft and wispy about her face, and the freckles on her cheeks make me ache with wonder.
"Daddy, I want to eat lunch with you today. Please?
Please
?"
She folds her hands into begging bundles, the knuckles blanching white with her pleading. Her tone and strident voice tell me she already knows what my answer will be. My heart sinks and my throat closes around the knot forming there. I pull her delicate face to my whiskery one and tickle her cheek softly. She giggles again and the scent of her innocent childhood fills my senses.
She leans back in my arms, her trust in my strength to hold her tightly evident in how far she leans out over air. She locks my eyes with her own. The pleading softens into a tender longing as I return her gaze.
"Daddy? When can we go on vacation? Can we go tomorrow? Tomorrow or the next day?"
"Well, I'd love to go tomorrow…I'd love to go the next day…but-" I shrug.
"You can't. Right?" she pouts.
She folds her arms into a defiant pose and shuns my effort to kiss her cheek by turning her head back and forth against my lips. I change her disappointment in me into a game as she starts to giggle against my scratchy chin. Finally, she stops and holds my face between her small hands, her frail fingers mastering my strength.
"OK, Daddy," and the defeat in her eyes brings me to the point of calling the whole trip off. I set her gently on the rug at my feet and turn to pick up the phone on my desk. My resolve falters as I think of how many people have worked so hard to plan this thing…how many I would disappoint if I decided not to go at the last minute.
My little girl's attention has been caught by a ray of sun, which is filtering through the blinds at the window. I watch her chase dust motes in the light, and her sweet little body feels like it is turning about in the glittering dust by inches. I can see each and every tiny movement as though I'm watching her on a slow motion film. I smile as I remember the day she was born, and I marvel at how much she's grown in six short years. The memories of her many kisses, her silly jokes, the hugs she's bestowed on me at random moments play through my mind.
I smile as I bless her presence in my life.
A knock at the door interrupts my sentimental thoughts.
"Come in," I call distractedly. My daughter glides on in her pool of light, oblivious to the world's annoying intrusion.
"The helicopter is ready, Mr. President. Mrs. Kennedy is on her way down."
"Thank you. I'll be right there."
I turn to my daughter, and she catches my gaze as she spins one last time.
"Come give me a hug, Caroline. It's time for Daddy to go."